Our features

Massotherapy
Two massage therapist on the premises – by appointment only.
Fees :
30 mins = $45
60 mins = $75
90 mins = $95

NeuroSpa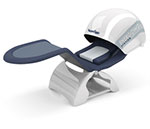 Deep relaxation on a zero-gravity chair
Travel in the aquatic world with the music of Angelini while the Neurospa deeply massages your nervous system.
The benefits :
Neutralizes stress and anxiety
Prevents insomnia and fatigue
Relaxes the whole body
Provides a deep state of relaxation
Stimulates creativity
Calms the nervous system
Relieves chronic pain
Lasting effects
Energizes
In only 30 minutes, one Neurospa session will bring you total physical and mental harmony.

Meeting Room
Coming to Quebec for business ? Right next door, we have meeting rooms, offices and a small conference room (up to 24 people) open 7/7.